FourModules- A Magical Exam Preparation Software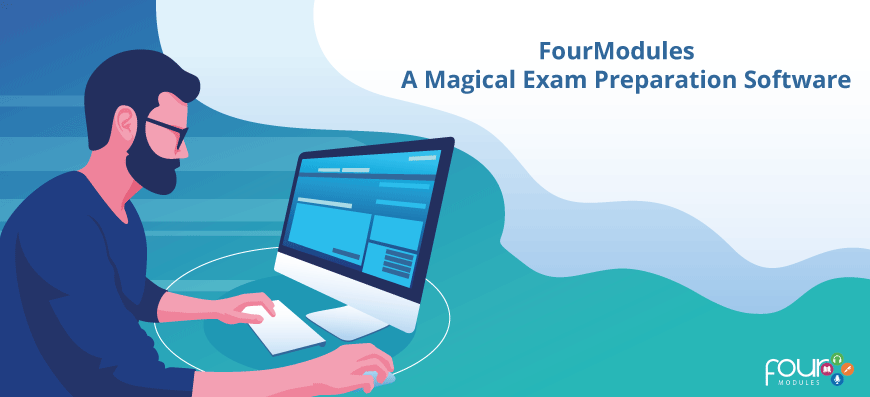 Whenever a student dreams of studying abroad, it always fascinates him or her. It is because of the new culture, environment, and people that please them and draws the attention of a child towards it. Moreover, studying abroad not only provides quality education to them but also makes one self-independent where he or she has to deal with all the circumstances alone. However, there are several formalities involved in this process, comprising of a proficiency exam, choosing the country & college, fees & expenses, visa application, and a lot more. Among all of the requirements, clearing a proficiency exam like IELTS, PTE, or CELPIP turns out to be the most challenging. All these exams are established to examine and evaluate all your English abilities that are needed to live & survive in an English country. Moreover, these exams provide a certificate of approval for your visa application and entry permission to a college/ university.
We provide high-quality education to every learner for these tests. Our website is specifically designed for study abroad aspirants. Along with that, our vision is to help create stories of success in individuals & businesses. Our services are marked by strong values like:
• Customer First.
• High-Quality Content
• Total Dedication.
• Simplified Learning
• Quick Implementations
Four Modules
is the most trusted platform and a one-stop solution for all your needs regarding IELTS, PTE, CELPIP preparation. Our official-like testing interface helps you prepare for the real exam accurately. Our website follows a great and sequential regime that becomes a personalized learning journey for a student. This route includes Registration, Recharge Wallet, Attempt Tests, Evaluations (Self/ Auto), Check Reports, and finally, Success.
We may discuss every feature comprehensively and understand all the incredible content and IT solutions that have been put together by the experts after doing tons of researches.
The primary thing about our service is that we generate high-quality practice material that results in good and high scores. In addition to it, this premium content stands out of the others very well. Moreover, these papers are coded as easy, intermediate & hard and one can buy any of these levels concerning their abilities. These effective pathways prove very strong for better preparation. Moreover, these are specially designed by experts and professional teachers that follow the latest exam patterns. All the planned questionnaires and several tests serve you with the updated as well as the previous year questions, thus providing you an efficient exposure of the test questions. Consequently, all these tests with answers and explanations ensure you ace the test dramatically. Conversely, we also offer multiple timed mock tests in which all the test-takers are put in a timed constrained condition to solve the test. This specific peculiarity helps one to frame a better answer in the timed conditions. In addition to it, our site also increases your profitability by providing you this material by charging a very affordable & nominal fee. The current price rate of the stock is:
• CD-IELTS ( ₹ 30/- test )
• PTE ( ₹ 40/- test )
• CELPIP ( ₹ 50/- test )
The next crucial segment of our website is the Evaluation of your answers and tests. All of your submitted responses are evaluated by the best & skilled professionals of the industry. Also, the rubrics and programmed algorithms support the system for easy, standardized & authenticated evaluation. We provide you a real-like simulated scorecard of your performance that is reflective of your planning and further requirements for practice. A detailed analysis report proves very effective in identifying your strengths and weaknesses. As a result, you may capitalize on your forces and can work upon the dark areas. You can also self-evaluate your solutions as proofreading or revisions. Along with that, question-wise analysis digs deeper into your readiness. Notably, our user-friendly interface can be assessed even remotely from anywhere anytime and can get real-time reports & insights effortlessly.
Following it, comes the planning of your schedule without which one cannot outline their preparation. And surprisingly, the FourModules.com also proffer you a Test-Preparation Planner and Improvement Planner that turn the tables into your favor. When a student registers to the site, he or she gets an opportunity to create a schedule and plan your study with the Test-Prep. Planner. After formulating this calendar, one receives notifications from the site and in this way, a registrant can continue his or her regular practice. This fascinating characteristic assists in planning & organizing your time accordingly that suits your convenience. On the contrary, the Improvement planner is the one that devises the schedules for your development. After examining your solutions, the improvement planner primarily analyzes your performance. Subsequently, it prepares an outline of all your deficiencies and provides a weak area focused plan. This aids a student to study his or her weaknesses effortlessly. Apart from that, it also proffers Question type-wise strategies to the candidates that assist in learning each task separately.
Furthermore, some other salient features of our website are that inquiries or queries, lead follow-ups, enrollment & registration, test assignments, and evaluations can be managed easily. We have a mobile-friendly interface that allows a person to access their account anytime. Also, one can practice even when they cannot go to their coaching centers or institutes. This also makes an aspirant have a command over their tests, assignments, and results which they receive in their hands. Moreover, live-chat & ticket systems are also developed by the organization for instant resolution. Jointly, the registered candidates and the partners can also resolve their everyday problems with a simple and convenient interface of the site. In fact, FourModules have also trained thousands of students and aspirants by the means of hundreds of partners attracted from different locations for English study programs. If calculated in numbers, there are:
• 213000 + Tests attempted by the registrants.
• 16600 + Students registered.
• 300 + Partners from diverse areas.
• 135 + Locations.
Further scrutinizing the website, one not only finds the educative material. Instead, our website has also been using advanced graphics and motion animations from a period, to teach in an entertaining manner. One can even find our YouTube channel where all the videos are well-planned & programmed by qualified animators that support a child to engage with the tests. Likewise, similar technology is used to weave out a very valuable piece, WoWCabulary. We regularly provide a short video to the registered candidates that elucidate the meaning of a word. One can readily & undoubtedly add this word into their dictionary to practice daily. As a result, it aids an applicant to enhance his or her vocabulary for the test. Along with that, one can also discover ample of profitable and productive Blogs and Articles that are also written by the experts. The main purpose of these write-ups is to broaden the thinking process of a student by providing a wide range of extensive information about the tests. These surpassing blogs include multiple themes like advantages/ disadvantages, tips & strategies, which is easier, and many more.
As the name suggests, FourModules has a very clear perception of providing complete preparation for any sections of the English language testing system: Reading, Listening, Writing, and Speaking. Additionally, it provides comprehensive erudition about the IELTS, PTE, &
CELPIP tests
, their formats, skills assessed, & scores. This readiness partner for study abroad caters to you with premium content, incomparable testing platform, self or auto- expert evaluation panel, solution & strategical PPTs, seamless product support, and many more to go. Thus, any aspirant planning to enroll in any English University/ College, want to migrate to any country for work or immigration purposes, need proficiency for the English Language training must enroll with us to polish all the required skills in an educational and English atmosphere.