Everything you need to know about the CELPIP Listening Test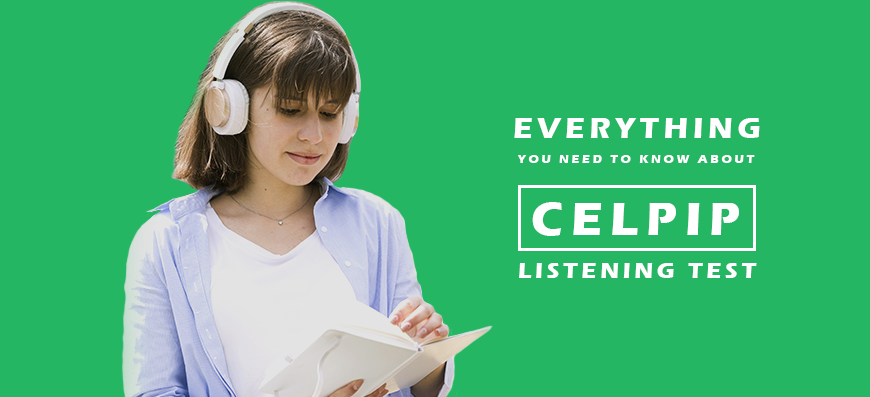 CELPIP Listening Test is one of the core tests that are used to check the English proficiency of the students. Like most other proficiency check tests, the student needs to focus on listening to the content from the audio file and then answer the relevant questions.
A successful student must be able to manage attentive listening, understanding the accent and the conversation situations while finding apt answers. Here is everything you need to know about the CELPIP Listening Test along with some tips and tricks to make your CELPIP Listening test ease as a breeze.
CELPIP Listening Test- A sectional overview
For the CELPIP listening test, a student is allocated anywhere between 47 to 55 minutes to answer all the 38 questions. The breakup of the various sections of the listening test and the number of questions for each section are as listed below.
| | |
| --- | --- |
| Number of Questions | Component Sections |
| 1 | Practice Task |
| 8 | Part 1: Listening to Problem Solving |
| 5 | Part 2: Listening to a Daily Life Conversation |
| 6 | Part 3: Listening for Information |
| 5 | Part 4: Listening to a News Item |
| 8 | Part 5: Listening to a Discussion |
| 6 | Part 6: Listening to Viewpoints |
Five Tips to crack CELPIP Listening test with ease

1: Know the question types:
Unlike other tests like CD-IELTS, CELPIP listening comes with one question type namely multiple-choice questions with one correct answer. Reading the questions thoroughly, underlining the keywords and looking out for any apparent twists are the three main strategies for you to ensure you to get CELPIP listening questions correctly. A good resource to start on your quest to the perfect
CELPIP listening sample tests
are listed here.
2: Have strategies for each section:
Each of the 6 sections offers unique insights and audio relevant to that section. The preparation must be made in accordance with the relevant section.
For example
, in Section 2 Listening to a Daily Life Conversation, the people interacting are known to each other. This alone should offer a good starting point to not focus on names or introductions but the subject matter being discussed. Likewise in Section 3 Listening for Information; the interaction is between two new individuals or like an interview in most cases. Here the introduction and starting points become far more relevant.
3: Opt for online radio stations to understand accents:
Know that unlike other tests where listening accents can vary from British to US or UK styles, CELPIP listening audio is focused on the Canadian accent. This may not be a problem for English speaking natives but for those who are non-English speaking, this can be a big issue. Practice with ample
sample tests
like those listed here as well as for opting to listen to various online radio stations like Radio Canada to be comfortable with the accent.
4: Listen to Talks to make notes:
Note making while listening is a trait that has to be practiced to make it perfect. Make use of online talks like TED talks to make notes while listening to the audio. These can help you understand the art of note making which you can then refine in various sample tests.
5: Personalize all strategies in sample tests:
Make use of sample tests including mock tests to ascertain your CELPIP listening test preparations. A good source to find ample
CELPIP mock tests
and CELPIP tests can be found here. The mock tests allow you the time and freedom to personalize all strategies in sample tests and seek improvement as needed.
Know about the unscored item
The CELPIP Listening test contains what is known as an unscored item. This is mainly used for test development. The unscored item can be found anywhere within each test and has the same format as that of all the scored items. As a student or a test seeker, you will not be able to find out which of the question is an unscored one. It is therefore prudent to make your full efforts for each question without skipping the question to avail maximum benefits and chances of a higher score.
CELPIP Listening Practice Tests and Resources
Listening to the Canadian accent, looking out for information for each section is not just the only challenge. Test takers are required to read answer choices in the Listening Test. All of this makes the use of mock tests and sample tests undertaken in an exam like scenario very important. The resource of mock and sample CELPIP tests including
CELPIP listening tests
offer the perfect training ground for students. What's more! These tests are evaluated by experts and results made available in as little as a 24-48 hours' turnaround time, making them a proactive tool in smoothening out CELPIP listening preparations.