Complete Guide To IELTS Academic Writing Task 2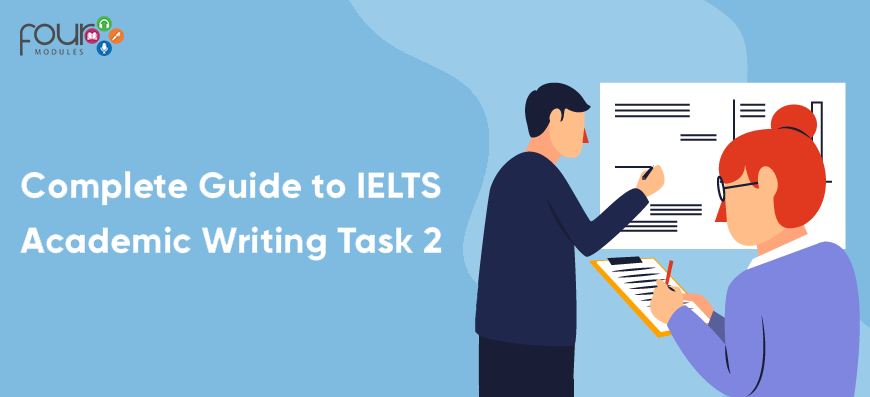 IELTS (International English Language Testing System) is a very prevalent and most high-stakes English proficiency test, among all the non-speakers of English that owns it as a second language. All these students and workers need proof of their proficiency and this test accurately verifies it. After an expert evaluation, many skilled checkers provide you a band for each section and their average becomes your overall score or band. This test is aimed at supporting the aspirants who wish to pursue their higher education by participating in an English language University-level program or want to migrate to any other country on work or job basis, the IELTS test can help you approach your education, career or life goals. Briefly, it is a task-based test that covers four main skills of a language: Reading, Listening, Writing, and Speaking. The LRW test is held on the same day at a particular test center. The atmosphere of the test center is quite similar to an examination hall and is very strict. Under such conditions, many students feel very struggling to write an essay, where they have to think a lot to offer a great essay. However, this complete guide will discuss each and every aspect of the
IELTS Academic Writing task 2
to ensure your good results in this question.
Firstly, we must highlight some basic information about the writing task 2. In this task, a candidate is made to compose an essay or article of 4-5 paragraphs, depending on the topic. Specifically, if we talk about the time allotment, each candidate gets a complete, 1-hour for the writing module. It depends on the fact that how you divide your time accordingly. It is considered that one should not spend more than 20 minutes on task 1 because task 2 is lengthier and quite hard. Consequently, you must save at least 40 minutes for this test. Moreover, if we look in-depth for the time-division, one of the best distributions is to spend 2-5 minutes on planning and brainstorming for the essay. Following it, on writing and presenting it, one must allocate a good half-an-hour and the left out 10 minutes should be devoted to editing and revising the passage. In this way, one should give his or her quality time to each and every part involved in writing to avoid any blunders & mistakes. Furthermore, the examiners evaluate your ability to express your opinions to an abstract question, reacting to social or environmental problems, analyzing the benefits or harms of a particular point, providing solutions to any problems, giving opinions & suggestions. Thus, one must take help from various
Blogs and articles
written by experts to widen the storehouse of your ideas.
The next important step is organizing & arranging the essay, which plays a vital role as one has to present his or her efficiently to score high. As we discussed the planning feature previously, it is very crucial to note that this complete test is an Academic and formal test. It allows and at the same time forces an aspirant to avoid any kind of informality and slang in his or her write-up. Apart from that, a thoughtful and neutral tone is highly appreciated by the examiners while evaluating the essays. Weighing to a particular side (either positive or negative), unless and until told so can adversely affect your scores. Another essential feature to organize the thesis well is putting all the similar ideas in a single paragraph to avoid confusion. This separation makes it easy for the evaluator to check your essays effortlessly that also leads to upliftment of your bands. Several experts are sitting on the online platform to serve you for the same purpose also. One can register yourself and with the help of an Improvement planner, anyone can enhance his or her performance by learning various tips and techniques.
Subsequently, to comprehend the scoring pattern of a particular task also proves very beneficial. Initially, a candidate has to answer an open and abstract question, thus the judgment is done on your content and thoughts as there is no clear or "correct" answer for it. The examiners basically check your point of perception, your portrayal of the text, and various skills that act as the base of your scores. These are:
Task Achievement ( 25% ): How well you accomplished the given question.
Coherence & Cohesion ( 25% ): How well you stick to the topic and the examiner concedes your message.
Lexical Resource ( 25% ): Ability to use an extensive series of vocabulary precisely.
Grammatical Range & Accuracy ( 25% ) Ability to implement the grammar rules & tenses in your speech accurately.
It is very important to give the examiner what he or she wants in order to score high. Moreover, this task particularly contributes two-thirds of its portion to your overall scores, which means complete 67% of the writing band comes from task 2.
Along with all the basic and formal necessities, there are certain additional tips that should be followed appropriately to stand out. It covers some understandable vocabulary words, relatable examples to reflect your practical side, linkers & connectors which act as a bridge between two lines, and a combination of various simple, complex, and compound sentences. These insertions will uplift your essay to an upper level and would draw the attention of the examiner toward your piece of work. Along with that, there are numerous habits that a student mistakenly incorporates while writing.
Some of them are bullet points or numbered list that makes your representation informal. Also, paraphrasing is very imperative for an essay because sometimes many students imitate the question sentences in their write-up in the same form as they are. On the contrary, taking and including large chunks directly from the topic will lower down the score. One must polish the
vocabulary skills
first and try to use synonyms & varied sentence structures to avoid duplication. Notably, this technique does not only help to avoid the question imitation, but it has also made its place in preventing redundancy in an essay. A broad and extensive vocabulary and using a cluster of simple, complex, and complicated sentences support one to add variation into his or her text.
Furthermore, when starting the preparation, it is also very valuable to solve the
IELTS Practice Test
first to know the current band where you stand. After interpreting this, one can easily plan the whole preparation path accordingly. These help an aspirant to understand the format of the test and the types of questions asked. Later with the feature of Instant Score Feedback, which you may find on
fourmodules.com
, you will be able to get your responses to evaluate efficiently by the experts. With the help of this verification, a candidate will comprehend where he or she stands. Moreover, this will help him or her to work upon the weaknesses to omit out all the flaws from their writings.
Lastly, although scoring in any module or exam can be difficult, but not impossible. Every aim or goal can be accomplished if one puts all his or her efforts and hard work in it. By obeying some of these useful techniques, an applicant can enhance the writing skills flawlessly. Moreover, this will further assist a child to raise his or her IELTS scores by standing out in every section.