Achieving 7+ Bands in CD-IELTS Speaking & Using CD-IELTS Mock Tests for Learning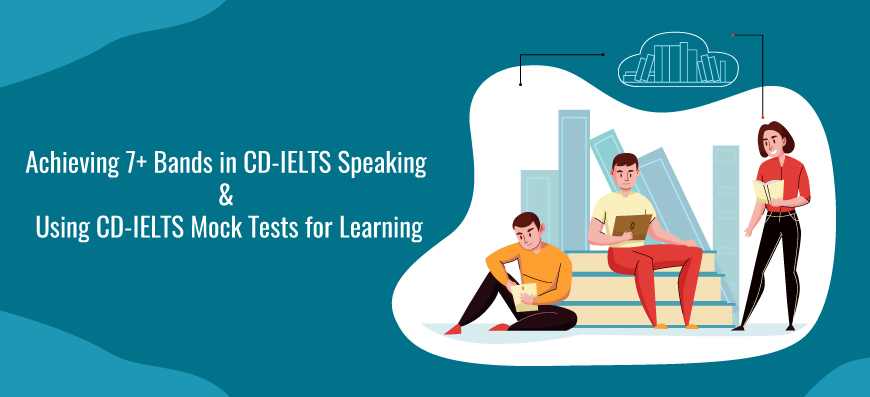 Numerous universities around the globe are providing educational services to countless students from different countries. For the same purpose, these institutions require proof of English, which is the medium of instructions and study in most of these universities, to offer admission. Likewise, this evidence is provided by the English proficiency tests that are very prevalent nowadays. The most popular and traditional among all tests is, CD-IELTS (International English Language Testing System).
Every year almost 3 million students sit for this test and verify their abilities to open doors for their aims & goals. Unlike other tests, this is a paper-based test and includes all the four modules: Reading, Listening, Writing, and Speaking. Candidates perform the LRW (Listening, Reading, and Writing) test on the same day and the Speaking test on the other day. On the contrary, most of the students find the speaking module more complex & quizzical. However, this difficulty can be eliminated effortlessly by following some essential and valuable tips.
Initially, to start with the techniques, one must take one official
CD-IELTS Mock Test
from a good website which best suits all your requirements, and they comprehend what skills are required for this test first. The main criteria of this test are to check a person's fluency and coherence with the topic.
If your examiner is not able to understand what you are trying to say, then you may lose some bands. You may also use some powerful vocabulary words and idioms. But make sure not to include all those tricky or complicated words which are hard to pronounce.
Consequently, you will have to put your serious efforts on those words which may also distract you. Along with that, the formation of your sentences and pronunciation should also be appropriate, which will support you to score high bands.
Let us now move onto the format of the test and the techniques we should follow for them. As we know, the CD-IELTS Speaking session starts with the very first introductory round in which a candidate has to give some basic personal information about him and her in about 4-5 minutes.
This is the warm-up round which is kept to let the student get comfortable with the examiner. The main point to remember is that an examinee should always be loyal to your examiner, especially in the first round. Particularly, you talk about yourself, your family, study/ work, hobbies, and a lot more.
If you do not speak the truth and will cook up the answers on-spot, you will get baffled and confused while talking. Moreover, as it all about you still one should never cram or memorize your speech because it gives a false impression of yours in front of the interviewer. An interviewer will easily recognize that you do not know what you are talking about.
Also, if you skip anything, like a word or a phrase, you might not be able to regain your memorized speech. Additionally, a person should also paraphrase the questions before answering them, instead of using the same sentence. For instance, if you have been asked: "Who was your idol when you were young?", then, despite saying: " ________ was my idol when I was young?", you should say: " I have grown up always been watching or admiring _______ as my idol", or anything like that.
Following it, next comes the cue-card round. You are given a topic and you have to speak on that topic for about straight 1-2 minutes. Apart from that, not only the topics, you also have to answer by covering all the proffered questions as well into your speech. Consequently, it is a detailed and multi-part question round.
Notably, the primary thing to ace this task is to continue speaking unless and until you are told to stop. Although you have to speak for only 2 minutes, you are not shown the timer. Hence, you must not predict your time on your own. Also, a candidate must take care that he or she has included all the lead questions properly in the response. If any query is left, it may also deduct your marks.
Furthermore, an extra one minute that is given to you to prepare your speech must also not be wasted. One must write and outline his or her 2-minute conversation precisely so that he or she does not have to stop in between to think of what to say next. In brief, keep this task simple, make one-word notes, plan accurately, and speak confidently.
On the contrary, the most stressful and challenging round of this module is the follow-up round that lasts for about 4-5 minutes.
In this particular step, the examiner asks multiple questions related to the similar topic that you had in the previous cue-card round. And surprisingly, all the questions quite relate to each other, which makes the candidate very confused to answer them. So, you must avoid repetition, which is the main objective of this round.
Moreover, this specific task is basically aimed at answering more and more questions to clarify or to give further details of what you have said in depth. An interviewer demands some more detailed, elucidated, and complex answers. In addition to it, they do it to reach out and examine each corner of your English abilities.
The questions may be hard or perplexing to answer to but one should not skip any of them. Answering and responding to them is also counted as a part of your skill. Moreover, there is no "right" or "wrong" answer for any query. Your responses will be graded only on your ability to attend each question appropriately.
Further scrutinizing the storehouse of tips and tricks for speaking module, another central point that is very essential is to listen to your interviewer carefully. Although it is not wrong to ask the examiner if you have not understood any of his or her questions or need any clarification, the solitary thing is that this practice may affect your scores adversely. In addition to it, an aspirant must also avoid the non-lexical errors like 'hmm' or 'urgh' too in your speech.
These project a very poor impression of an applicant and also make you sound like a beginner. Along with that, also avoid the excess usage of conjunctions or connectors like 'and' or 'but' in your sentences. Try to add a full stop between two sentences to separate them. This might be more convenient for you to convey your message and also for the listener to understand any topic.
A few other last-minute tips are, as you are aware of the fact that the examiner records your voice, so you need to be loud and clear while speaking.
Furthermore, don't get nervous while conversing with your examiner and this can be done by conjecturing it as a normal conversation and not a test, in which you are supposed to answer all the questions accurately in English, asked by the examiner.
Preparation, Practice, and Polishing are the three P's that are demanded by every test and these, along with your skills will ensure you sail through the CD-IELTS Speaking module flawlessly.
So, you have to Practice regularly. You can do preparation by going to classes as well as online. For Online preparation, there are so many websites available. Check FourModules and get numerous CD-CD-IELTS Practice Test | Mock Tests, and achieve target score in the
CD-IELTS Speaking
.