ABOUT US
Welcome to fourmodules.com - your readiness partner for study abroad.
We are dedicated to giving you the very best Content, Testing Platform & Evaluations for CD-IELTS, CELPIP & PTE preparation with a focus on success in first attempt.
Founded by Mr.Khangura and a highly professional team, FourModules has come a long way from its beginnings in Chandigarh. When Mr.Khangura first started out, his passion for Quality Solutions in Lowest Pricing with utmost convenience drove him and his team to do tons of research and put together an incredible team for content and IT solutions so that FourModules can offer the Best solution for great results .
We now serve customers from all over the world, and are thrilled that we are able to turn our passion into a platform that enables lakhs of users to get successful results in their exams and help them to complete their dreams to study abroad.
We believe you will enjoy our platform as much as we enjoy offering competitive and best solutions to you. If you have any queries, please don't hesitate to contact us at info@fourmodules.com
MISSION : Quality solutions in lowest pricing with utmost convenience.
VISION : To help create stories of success in individuals and businesses.
OUR VALUES
Customer First
Set High Quality
Make it Simple
Think Big
Strong Commitment
Be Curious & Keep Learning
Quick Implementations
Built For success
A program designed to ensure your success
Test Prep. Planner

Premium Content

Real Test-like Experience

Expert Evaluations

Improvement Plan
Complete Solutions for your Learning
You surely do want good scores, don't you? Then planning is the key. Plan your study. And we will assist you in planning and organizing your time and materials. Our Test Prep Planner helps you create schedules, select the number of tests you wish to attempt, understand strategies of each module – all according to your convenient available time! A well-planned study leaves nothing to chance. And you taste success right in the first attempt!

What stands out in the crowd is the premium content we offer. The tests that are coded as Easy, Moderate and Hard become pathways for stronger preparation. That too as per the latest exam pattern. The real-like interface of FourModules.com ensures you sail through your preparations with additional knowledge and skills.

Your tests are evaluated by the experts in this industry. You get your scorecard as real as possible. Your test score is reflective of your planning and further requirements for practice. Question-wise analysis digs deeper into your readiness. So, you are prepared for the best result!

You not only get personalized coaching, but you also get further practice to improve your weak areas. Your weak areas are traced through our technology and multiple test performances. You get as many short tests to help you strengthen the weak areas. Regular practice on our platform adds confidence in your attempt that ultimately improves your score.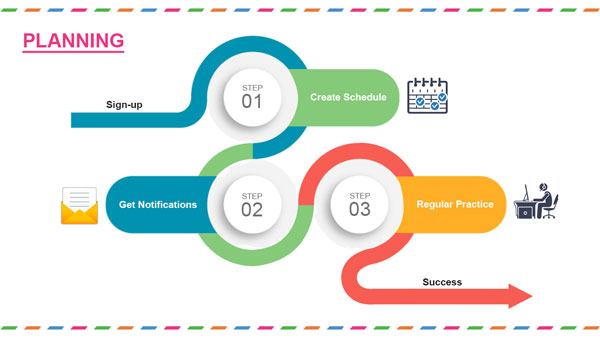 Some important facts about us
I realize that fourmodules.com is quite easy for the students. Since the PTE test is an online test and this software works very well in all the modules. Students always suffer in evaluation section but as they use fourmodules.com, students feel that it is quite easy. Finally, I would say that it is a perfect platform for students.
Simranjeet
(PTE Faculty)
I am extremely pleased by the incredible work and efforts put in by the team of fourmodules.com to enable us with such a precise and accurate testing and evaluation system of CELPIP. Its user friendly accessibility is simply the icing on the cake.
Mandeep Singh
(CELPIP Faculty)
The material of fourmodules.com is systematically organized and is extremely friendly too. We are all very pleased to work with your team as well as to use this platform. The content is relevant to exam while the evaluation pattern is real-like which is very crucial for students because they can improve themselves and prepare themselves for taking exam.
Jeswiner Kaur
(IELTS Faculty)
We truly appreciate the way FOURMODULES has given us the opportunities to expand our business. We have three institutes at Zira, Ferozepur & Dharamkot, and have been using FOURMODULES to provide our students best material and quality education. We hope to have more business opportunities with it for many years.
Navjyot Kaur
SSJ Education & Immigration Services
Ferozepur, Zira & Dharamkot, Punjab
This software fourmodules.com is much useful for the candidate who practices CD-IELTS, CELPIP, PTE etc. It's user- friendly and the CRM to maintain the student data is good.
Maheshwari Arris Academy
Coimbatore, Tamilnadu
Testimonials Our students are very satisfied with this test and they are achieving good score in their PTE. They are very co-operative and their method and software are extremely good and easy for the students. Their services are beyond anything I could have imagined. It gets my highest recommendation.
Sunil Bhungliya
WEC Overseas Education
Surat, Gujarat
My experience with FourModules is awesome. FourModules helped me a lot in my PTE preparation. The tests provided have given me the experience of the real test. It offers a different level of test for practice. Mock Tests helped me a lot in improving my performance.
Arshdeep Singh
PTE
FourModules helped me in achieving my goal of going abroad. I have taken advantage of the tests provided by FourModules to improve my performance and getting the desired bands.
Charanjit Singh
CD-IELTS
FourModules has helped me in getting a good CELPIP Score. I really like the online testing & evaluation it is providing. It has helped me in achieving my desired score.
Hardeep Kaur
CELPIP
I appreciate the hard work and untiring efforts of FourModules for making online CELPIP tests available. These tests follow the same pattern as the Official Test. From Day 1, I had taken advantage of these tests to enhances my performance and the final score.
Harmanjit Kaur
CELPIP