CELPIP vs IELTS: Which one you should opt?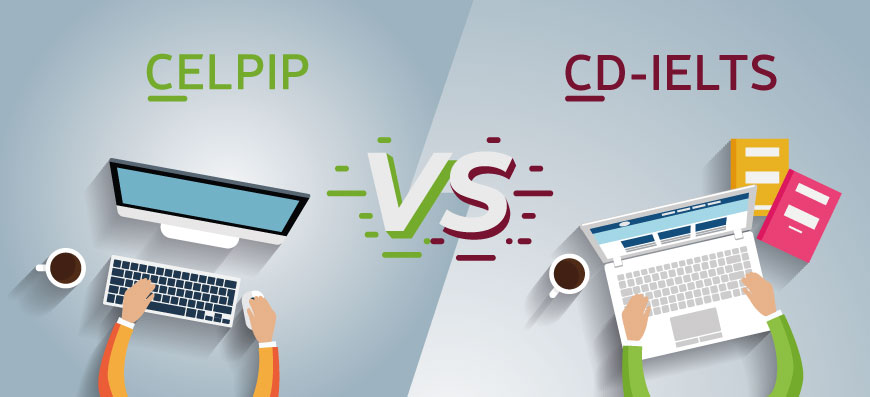 Most of the students looking for better higher education prospects have one common dilemma. Should I opt for the IELTS test or should I go in for a CELPIP test? Which one of IELTS and CELPIP would be a better option? CELPIP vs IELTS is a tough question for those who want to go to Canada. Since both IELTS and CELPIP tests require specialized training and with apt attention to detail as per their varying formats, the selection of the right test becomes even more important. Also, both the IELTS and CELPIP tests are designed to evaluate the English language proficiency of a student or immigration applicant, it gets hard for applicants to choose which one of the two is more suitable for them.
So if you are also in the same boat or having the difficulty in choosing between IELTS and CELPIP, read on to know the similarities and differences and which test will be more appropriate for your needs.
CELPIP vs IELTS: Understanding both IELTS and CELPIP
Fundamentally, CELPIP or Canadian English Language Proficiency Index Program, as well as IELTS or International English Language Testing System, are tests that measure up the English proficiency of the aspirants. Both the tests are used to assimilate the English speaking, listening, reading and writing credentials of an applicant when applying for both permanent immigration or study or work-related immigration. Also, both IELTS and CELPIP have different versions catering to the specific needs of various test seekers. Both the tests have their rightful place and it all comes down to the exact need of the aspirants, the country for which they are looking to apply and the acceptance of the tests for the country.
CELPIP vs IELTS: Choosing the right exam version is the key
The CELPIP Test is available in two variants namely the CELPIP-General Test and the CELPIP-General LS Test. CELPIP-General test is taken by those looking to prove their English language proficiency while applying for permanent resident status in Canada. It is to be noted that the CELPIP test is eligible in Canada only. The test is approved by the Immigration, Refugees and Citizenship Canada (IRCC). The CELPIP-General LS Test, on the other hand, is a fully computer-delivered test taken by students seeking higher education as well as applying for Canadian citizenship.
IELTS also has many variants and the key is in choosing the right variant for the individual needs. One can choose between the IELTS Academic test and the IELTS General Test. IELTS Academic test, for example, is for those applying to study abroad. Likewise, the IELTS General Training exam is suited for individuals looking to immigrate to an English-speaking country. IELTS also has a specialized test named the UKVI which is acceptable only for a specific UK visa for the test seeker.
CELPIP vs IELTS: Test Preparation
The IELTS exam can be attempted in two ways. Either by the traditional paper based format or the applicants can go for CD-IELTS i.e. Computer Delivered IELTS. On the other hand, CELPIP exam is completely computer-based. A marked difference, however, is that the CELPIP test uses Canadian speakers in its listening section since the test is primarily aimed at immigration and student English proficiency for Canada. The IELTS test uses multiple native speakers anywhere from Australia, Canada, New Zealand, the UK and US in the listening section. A good way to deal with accent related difficulty is by taking a mock test for both Computer Delivered IELTS and CELPIP.
As far as scoring patterns go, both CELPIP and IELTS have their own unique scoring systems. For example, CELPIP test offers a score ranging from 1 to 12 for each of its test section. This scoring is in line with the Canadian Language Benchmark (CLB). IELTS test, on the other hand, has a scoring pattern offering a score range between 1 to 9 for each test section.
CELPIP vs IELTS: Exam duration and result
All the four modules of IELTS might require more than a day for the completion. The Speaking test of the IELTS is generally reserved for a separate day or allocated at a different venue. Therefore, the IELTS exam has no fixed duration for completion.
On the other hand, the CELPIP exam is completed in 3 hours in a single sitting. During this time, all the four modules i.e. Listening, Speaking, Writing and Reading are completed. The results for both IELTS and CELPIP tests are declared within two weeks from the exam.
CELPIP vs IELTS: Test difficulty
Both IELTS and CELPIP tests have various sections that can be viewed as easier or more difficult by individual test-takers. In term of difficulty level, both the tests are equally easy or equally difficult. It all comes down to apt preparation and planning to cater to the test requirements. Since IELTS is a more popular test, training tools and study material is far more frequently available.
However, CELPIP being a relatively newer test is slowly catching up. The use of Mock Tests and Practice Tests for Computer Delivered IELTS and CELPIP is the best way to refine, fine-tune and make yourself ready for the test. Pocket-friendly Mock tests for both Computer Delivered IELTS and CELPIP can be found on our website. All these mock tests come with evaluations by experts and then you can work on your weak areas.
CELPIP vs IELTS: Location, test availability, and Price
Both IELTS and CELPIP are available across multiple locations in India. While price alone should not be a criterion to choose between IELTS and CELPIP, the CELPIP exam is slightly less expensive than IELTS.
Choosing one between IELTS and CELPIP should be made based on your reason for taking the English proficiency test, most importantly, the country for which you are looking to apply either as a student or someone looking at permanent immigration to ensure apt acceptance.
CELPIP vs IELTS: Differences and similarities in brief
IELTS and CELPIP both assesses the English proficiency of the test taker.
IELTS test is available in both paper-based format and the computer delivered format. However, CELPIP is completely computer based.
The IELTS exam caters to majority of the English speaking countries while the CELPIP exam is only for those who want to go to Canada.
There is no specific time span for the IELTS exam while the CELPIP exam is completed in 3 hours.
The results are declared within two weeks of both the exams.
CELPIP majorly focuses on functional English and IELTS is more about the theoretical proficiency over the language.
The IELTS is accepted by more schools than CELPIP.
Citizenship can be applied with a CELPIP score