CELPIP Listening Task - Tips and Techniques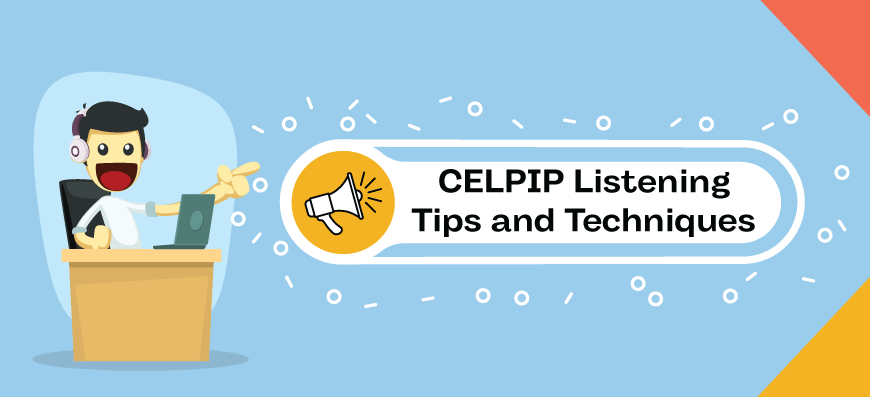 Canada has been on the students' first priority for the last many decades in terms of studying. Many aspirants dream and choose this country as their study or work destination. Likewise, an English Proficiency test that is solitarily devoted to this country and helps one to get permanent Resident ship and citizenship in Canada is the
CELPIP test
. CELPIP stands for
"The Canadian English Language Proficiency Index Program
" and completely supports a candidate by extracting his or her proficiency in using the English language required to be a part of the Canadian citizens. On the other hand, like many other tests, CELPIP is also of two types: CELPIP General and CELPIP General-LS. Both tests are very different, and one can read the differences between both types here. Furthermore, this test can be quite hard, especially for those who are non-English speakers. They may have to deal with a different accent and tone of the English language, along with many other challenges. However, one can overcome these hurdles by a dedicated and efficient
CELPIP Online Practice
, which may by far help an aspirant to reduce the exam pressure.
Now, if we discuss the main concern of most of the students, more than half a proportion of the aspirants pay attention to the speaking section the most. According to them, speaking fluently in the English language is their main concern and they work for that only. However, one should understand that listening attentively is also an equal and important personality trait to grasp a language precisely. Moreover, active and attentive listening gives you the necessary confidence and skills that you can use to achieve any desired score.
The listening section of the
CELPIP Exam
contains a group of six different tasks:
Listening to a Problem-Solving conversation.
Listening to a Daily Life conversation.
Listening to a News Item.
Listening to a Discussion.
Listening for Information.
Listening to different Viewpoints.
All these six kinds of audios cover all the socio-linguistic requirements of a person to analyze every type of information, understand them carefully, and make decisions by answering the questions correctly. Furthermore, an aspirant has to complete these bunch of tasks in 50 minutes and each is played only once. Thus, a candidate needs to be very attentive and cautious while listening to and solving the questions. On the other hand, after knowing the format of the CELPIP Listening Section, it is very necessary to build a good strategy and implement some efficient CELPIP Tips and Techniques to ace the test effortlessly. Similarly, if we study every task of this examination separately,
Listening to a Problem: Solving conversation: Under this type, a student is set to listen to a common face to face interaction between the strangers who are discussing some problems being faced by one or both of them. Thus, an aspirant has to deal with different tones, ways of communicating, and intonation patterns between strangers. However, the conversation here is not very detailed and one just have to comprehend what they are saying, to answer the questions.
Listening to a Daily Life conversation: Moving to the next type, this conversation may consist of a normal conversation that is a part of your daily life either with a common friend, or a family member. Consequently, conversations may be fast-paced. However, one must not panic if he or she has skipped any word or phrase. Nevertheless, it is important to keep the mind calm and continue listening to the extract and understand it as much as you can.
Listening to a News Item: To elucidate this specific task, this type of conversation may be quite confusing as it is comprised of many examples, figures, and facts. Thus, one must handle this task practically and should make notes by writing down some important keywords, dates, etc. Moreover, an aspirant should also keep listening to BBC News/CNN and some other news channels to get acquainted with this task.
Listening to a Discussion: As the name suggests, here a student gets to watch a short video wherein three or four-person are having a detailed discussion on, most likely, some academic issues. One must develop efficient note-taking skills to flourish in this task. Furthermore, a candidate should also not transcribe the discussions from word to word. On the contrary, deducing a long extract by its thought, meaning, and keywords is the correct way to tackle this task.
Listening for Information: For this task, a piece of conversation with some information is presented in front of you and one has to be accomplished so that he or she can anticipate what would be said next. Moreover, another mistake that must also be avoided for the listening tasks is that a student should analyze the bigger picture and not just have to confined to the semantics. Moreover, using some understandable keywords, abbreviations, and symbols for notes is also very beneficial.
Listening to different Viewpoints: This is the last and the most difficult task to handle as you will be hearing different speakers and their diverse viewpoints. Subsequently, determining the main objective of the conversation is of the utmost importance. Later, a student should interpret each speaker's point of view to comprehend the whole conversation and varied perceptions precisely. Moreover, for this task also, notes are very helpful as by referring to them one can be more likely to be able to make accurate and thoughtful inferences.
Apart from these task-oriented tips, many other key points should also be taken care of. Initially, being completely present and focused is very crucial to attempt and solve any exam flawlessly. As a result, any type of distractions or disturbances must be ignored on the test day to attain the aim. Furthermore, as mentioned earlier, making notes is also an important segment but only if you make them without losing any concentration. Moreover, to focus and concentrate more accurately, it is advised to keep the mind relax and clam. When a person is quite nervous, panicked, and hesitated, it is difficult for him or her to be attentive toward the extract or what the speaker is saying. Conversely, most of the listening passages are pretty short thus it is not required to retain too much in your brains. If one is accustomed to an efficient
CELPIP Preparation Material
like
CELPIP Listening Questions
and
CELPIP Practice Test
, one can effortlessly ace the test. Along with that, noticing the intonation pattern of the speaker can also prove very beneficial to identify the keywords of the speaker.
To conclude, every listening task demands an efficient
CELPIP Practice & Preparation
, along with some of the aforementioned tricks to stand out in the
CELPIP Examination
without facing any inconvenience.