PTE Academic: Read Aloud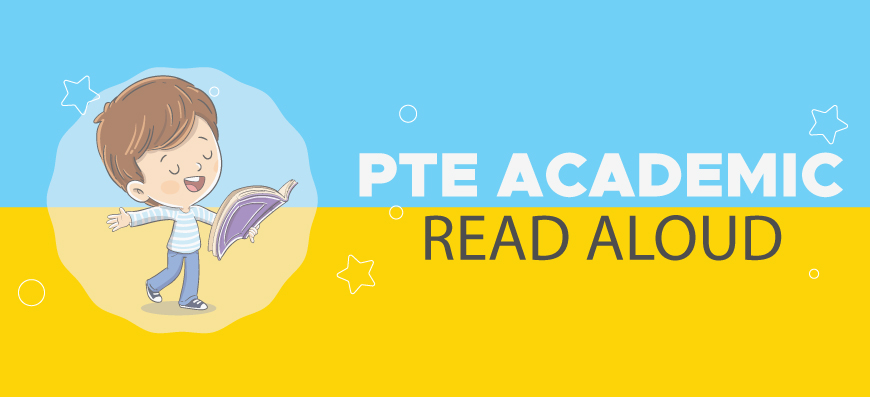 Read Aloud is the first scored item type of PTE Academic test which is also one of the easiest item types, but, it has certain issues that have to be kept in mind while attempting the questions.
How to do it?
There would be a small paragraph on screen and a preparation time of 35-40 seconds is given to each test-taker, in order to practice the pronunciation. After that, another timer of 35-40 seconds starts which is the response time, at this; the test-taker has to read the displayed text on the screen in the microphone, make sure to complete the reading before the timer ends.
There are 6-7 such texts on each screen and the same procedure is followed. The next item will be displayed only after the test taker clicks to the 'NEXT' button.
Skills assessed
There are 2 communicative skills which are assessed: Speaking and Reading, and 1 enabling skill which is Pronunciation.
Assessment Criteria
The assessment is based on 3 parameters: Oral Fluency, Pronunciation and Content.
Scoring
Each Read aloud item is of 15 marks, and the segregation of the marks is as follows:
Oral Fluency
Pronunciation
Content
Max. Marks: 5
Max. Marks: 5
Max. Marks: 5
5 Native-Like
4 Advanced
3 Good
2 Intermediate
1 Limited
0 Disfluent
5 Native-Like
4 Advanced
3 Good
2 Intermediate
1 Intrusive
0 Non-English
Each Replacement, omission, or insertion of a
word counts as one error and claims.
The Myths about Read aloud
There are some certain myths that I came across my PTE preparation and training, which were nothing but untrue.
a. "…..Keep on repeating the same text even if you have read it once for the computer until the response time ends…."
Please!!! Don't Do That Ever.
b. "…….Read as faster as you can, don't worry about the content and pronunciation. Fluency is more important……"
Well, go through the scores and assessment criteria it is clearly mentioned there that if Content is incorrect, the item will be marked as invalid and no score would be rewarded, so even some has said you anything about the unimportance of pronunciation and content, Kindly don't act upon that advice.
The Do's and Don'ts
Each and every assessment feature is important.
Make sure to read it at your natural pace neither too fast nor too slow. It should be moderate and natural.
Don't read too loudly, you might disturb the other candidates.
Don't read too slowly, your voice might not get recorded.
Practice the pronunciation of difficult and big words every day.
Learn intonation and stress.
Work on your voice accent to eliminate Mother Tongue Influence.
Don't a fake accent, it won't help you.
Don't start reading before the response timer starts.
Don't take a pause of more than 3 seconds; the recording will stop automatically if there is no input for 3 consecutive seconds.
Do recording of your own response and listen to it to find the loopholes.
Don't haste.
Don't skip the content.
Do work on your pronunciation and oral fluency by reading newspapers and magazines loudly at home.
Hope! It has been quite an informative session for you. Keep on practicing.
All the best!!!
Posted
September 09, 2019