Which Exam Is Easier: PTE Or IELTS, While Applying For PR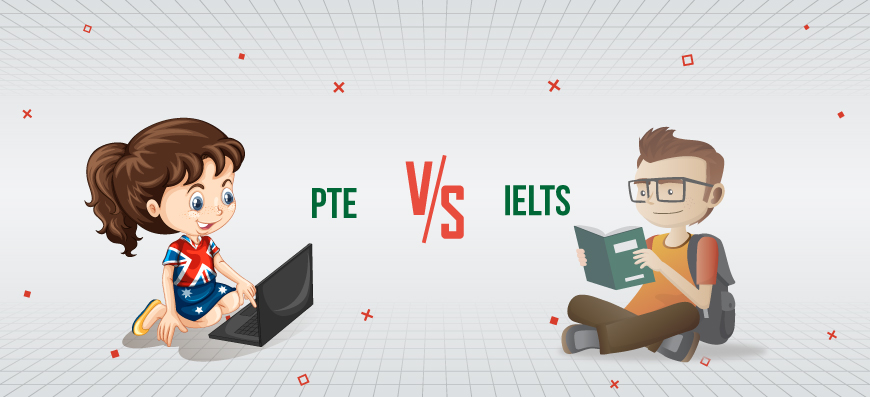 Every aspirant of studying abroad always has a tough time choosing between IELTS or PTE and is often seen asking others the same question: PTE or IELTS, which one is better?
So, let's make the choice easy for you with a logical approach.
However, before providing the answer let's discuss the differences in both:
PTE:
PTE is the test of language in which the assessment is based on the various aspects of the language like oral fluency, content, coherence, etc. Instead of just grammar and vocabulary.
Just one test is there for both study and PR purposes.
Evaluation with rewarded with scores; the maximum scores are 90.
It consumes less time.
The total test duration is either 2:55 hours or 3 hours maximum including the optional break. Moreover, the entire test is conducted in a day in one shift only.
The result is declared within 5 business days.
You must be good at typing.
It doesn't require a lot of reading.
Multiple skills are assessed in all the modules, which add-on scores to each other. For example, the speaking module contributes scores in reading and listening, writing modules contributes to reading, the reading module contributes to writing and last but not least, listening contributes to both reading and writing. So, overall, all the modules positively affect each other and make it easier to achieve the required score.
Test centers are available in the big cities at selected locations.
The test is conducted daily, flexible time slots are available, so booking a test is quite easy.
IELTS:
Grammar and vocabulary matter a lot.
In fact, half of the total score in writing and speaking modules is contributed by lexical resources and grammatical range and accuracy.
Two different variants: IELTS General and IELTS Academics are there for PR and study purposes respectively.
The assessment is done in bands and the maximum bands are 9.
Consumes a lot of time
The test consumes a lot of time, a candidate spends at least 6 hours on an average in the test center as there are a number of formalities done before the test. Moreover, students have to wait a lot before the test starts and till the time other students are also done with the formalities. The test is divided into two parts-
PART1-
Listening, Reading and writing
PART2-
Speaking
Both parts are conducted on different days.
The result is declared after 13 days.
You must have legible handwriting.
You have to solve 3 passages of 900 to 1200 words each, so reading is involved here.
Modules don't contribute scores to each other, scoring is individual; hence, no co-relation among the modules is there.
Test centers are available at all the nearby locations.
Only 4 test dates are available in a month, pre-booking is mandatory.
So, the answer to the above-asked question is: you decide based on the provided information. However, the validity of PTE scores at some colleges and universities in Canada is still under the question, so, before, choosing any test, choose the course and college and find out whether PTE scores are acceptable there or not. Fortunately, the PTE scores are as equally accepted in Australia and New Zealand as IELTS scores. In fact, those applying for direct PR to Australia must be glad to know that you will give extra points if you scored 79+ in PTE. So choose wisely, prepare diligently.