CELPIP Reading Test Simplified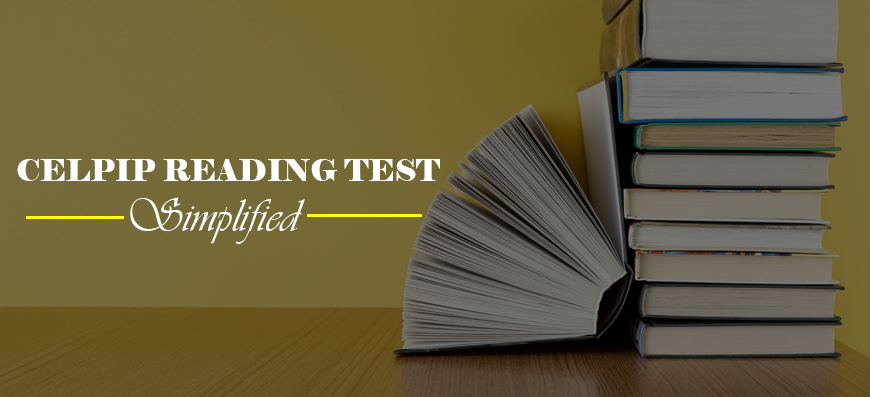 If Celpip test can be equated to a human body, the reading and listening tests would be akin to the heart and soul of the test. Many students preparing for the Celpip test spend a huge amount of time, effort and training to ensure they get maximum number of correct answers in both these sections. Celpip Reading test can as easy or as difficult depending on the level of preparation. Before preparing for the test, it is important to understand the test section along with various parts of the section.
CELPIP Reading Test- A sectional overview
For the Celpip reading test a student is allocated anywhere between 55-60 minutes to answer all the 38 questions. The breakup of the various sections of the listening test and the number of questions for each section are as listed below.
| | |
| --- | --- |
| Number of Questions | Component Sections |
| 1 | Practice Task |
| 11 | Part 1: Reading Correspondence |
| 8 | Part 2: Reading to Apply a Diagram |
| 9 | Part 3: Reading for Information |
| 10 | Part 4: Reading for Viewpoints |
5 Tips to crack CELPIP Reading test with ease
1: Know the question types
Unlike other tests like CD IELTS, CELPIP reading comes with one question type namely multiple choice questions with one correct answer. Reading the questions thoroughly, underlining the keywords and looking out for any apparent twists are the 3 main strategies for you to ensure you get tour CELPIP reading questions correctly. A good resource to start on your quest to the perfect CELPIP reading sample tests is by seeking ample mock and
sample tests
.
2: Have strategies for each section
Each of the 4 sections offers unique insights relevant to that section. The preparation must be made in accordance with the relevant section.
For example in Section 1 reading for correspondence, the communication is often between two known people. This could husband and wife or boyfriend-girlfriend or peers, siblings etc. The details of the communication need to be understood in terms of why the communication is needed. This could be a letter for a party, anniversary etc or an apology or something of a regular unofficial communication. The reply is also on similar lines giving a great insight on the likely words to be used as effective communication. On the other hand the Part 2 of reading to apply a diagram will have content related to the shortlisted options in the content and their detailing like prices, uses, pros and cons etc. Again the communication is informal but the communication largely revolves around the images and content shared so attention to detail will help find most of the answers.
3: Make use of Keywords
Make use of keywords while reading is a great strategy for getting higher percentage of correct answers. The keywords should be focused as per the each relevant section of the test depending on the types of questions asked. For example in Part 2 'Reading to Apply a Diagram', there is always a question seeking the relation between the two people communicating. Keeping an eye out for such details as per the section can ensure higher correct answer.
4: Answer all the questions
Unlike other tests Celpip has no negative marking so answering all the questions is a great way to maximize your chances for a better score. The problem many students face is lack of time. By having ample practice making use of sample and mock tests, you can ensure you get your timing correct and finish the Reading test under an hour by answering all questions.
5: Stay away from Predictions
Unlike other tests predicting an answer is a bad strategy when it comes to Celpip reading. All answers are available in the content and predicting any answer will most likely lead to an unforced error. Focus and attentiveness are better traits than prediction to score high in Celpip reading.
Celpip Reading and unscored Question
The Celpip reading test just like the Celpip Listening test contains what is known as an unscored item. The unscored item can be found anywhere within each test and has the same format as that of all the scored items. As a student or a test seeker you will not be able to find out which of the question is an unscored one. It is therefore prudent to make your full efforts for each question without skipping the question to avail maximum benefits and chances of a higher score.
CELPIP Reading Practice Tests and Resources
To ensure optimum practice and testing strategies, use of mock tests and sample tests undertaken in an exam like scenario very important. The resource of mock and sample Celpip tests including
Celpip reading tests
offer the perfect training ground for students. What's more these tests are evaluated by experts and results made available in as little as a 24-48 hour turnaround time, making them a proactive tool in smoothening out Celpip reading preparations.